Spot Prices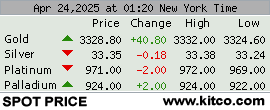 Welcome to the YE OLD COIN SHOP website
We hope you will take the time to see all that we have to share with you. Need coins? We have those. Need bullion, paper money, supplies? We have that too. If you don't see it, chances are good that we can get it as we have numismatic contacts through-out the world.
We buy, sell, and professionally appraise coins for individuals and estates. We have access to all the major auctions.
YOCS isn't just a site to buy and sell numismatic items. Our intention is to also share interesting articles and relevant news pertinent to all of us who have an interest in the hobby and business of numismatics. Newbies are just as welcome as veteran collectors. We have a special interest in helping YN's, young numismatists who have just begun the fascinating journey into this life-long hobby.
Why Choose YOCS
Authorized Dealers
We are authorized Dealers for NGC, PCGS, and a life-time member of GNA.
Experience
We have over 50 Years of experience in buying/selling/appraising coins.
Top Prices
We can pay TOP PRICES as we operate with low overhead.
Good Standing
We are also in good standing with the American Numismatic Association.
How it works?
In Person
Visit our store and get an offer for your valuables. We will examine your lot and make an offer for it all. If you agree to sell, we pay while you wait. It's that simple! For security and other purposes, we strongly recommend that you call before you arrive. Our regular hours are 1:00-5:00 p.m. Monday-Saturday. However, we travel for coin shows and conduct outside appraisals. Occasionally our hours change; however, we can arrange appointments at other times when needed.
By Mail
We have over 50 Years of experience in buying/selling/appraising coins.
If you have items that we buy, then pack your items securely and ship insured. We recommend that you do not address the package directly to Ye Old Coin Shop (to avoid suspicion of contents.) It is better to address the package personally to Dr. Nancy W. Kelly, YOCS, 6156 Southern Rd., Young Harris, GA. 30582.
Include a list of contents as best you can describe. Include at least one phone number and email address where we can reach you.
Authorized Dealer
Our Customer Testimonials